1983 Mason 53
ID# 2949464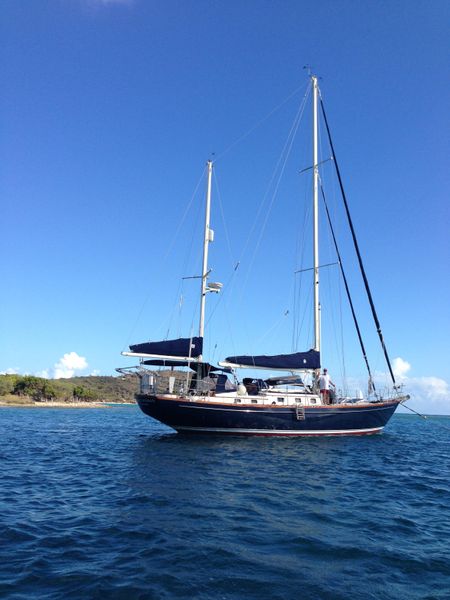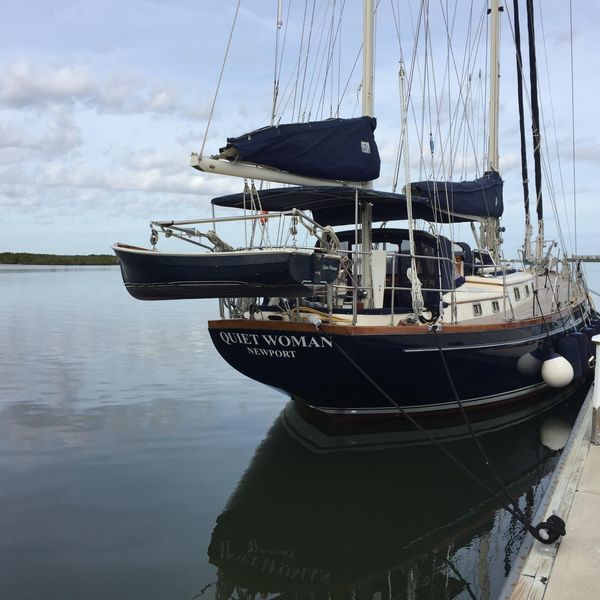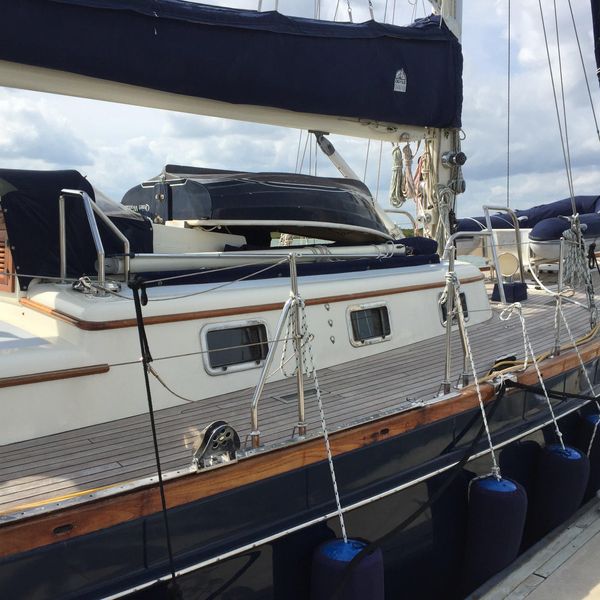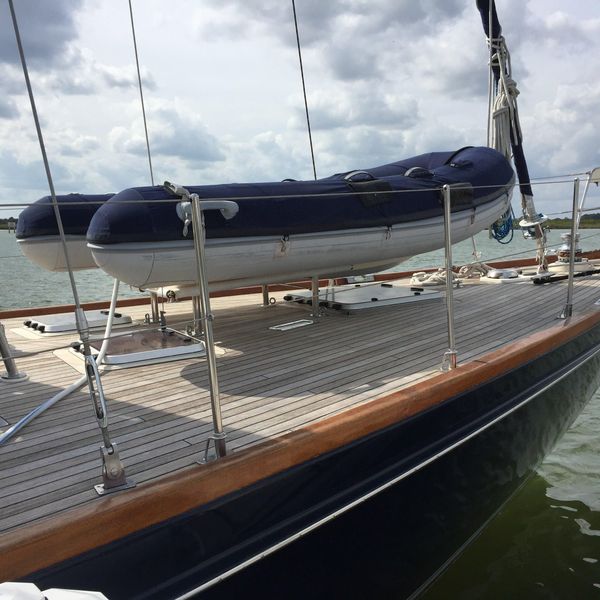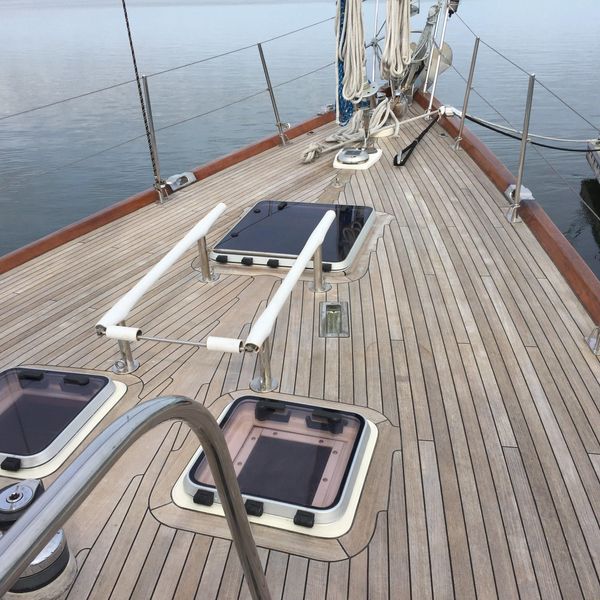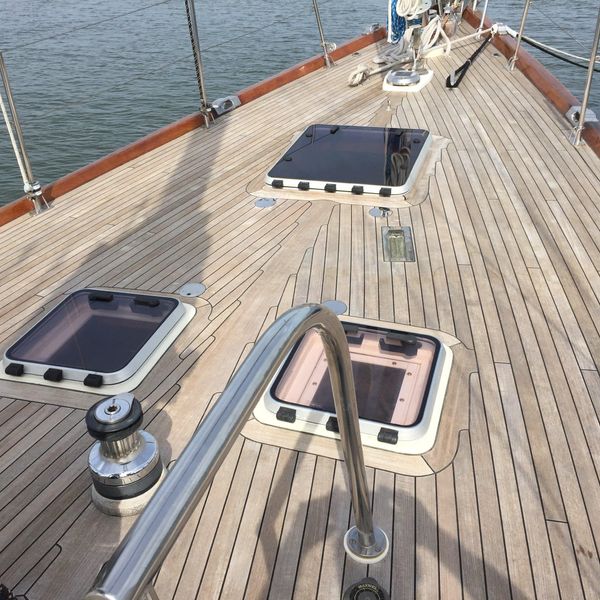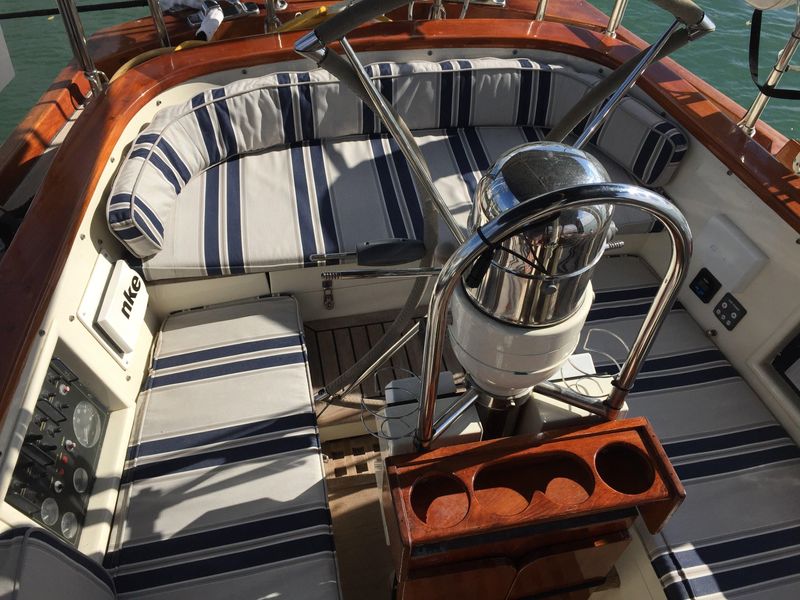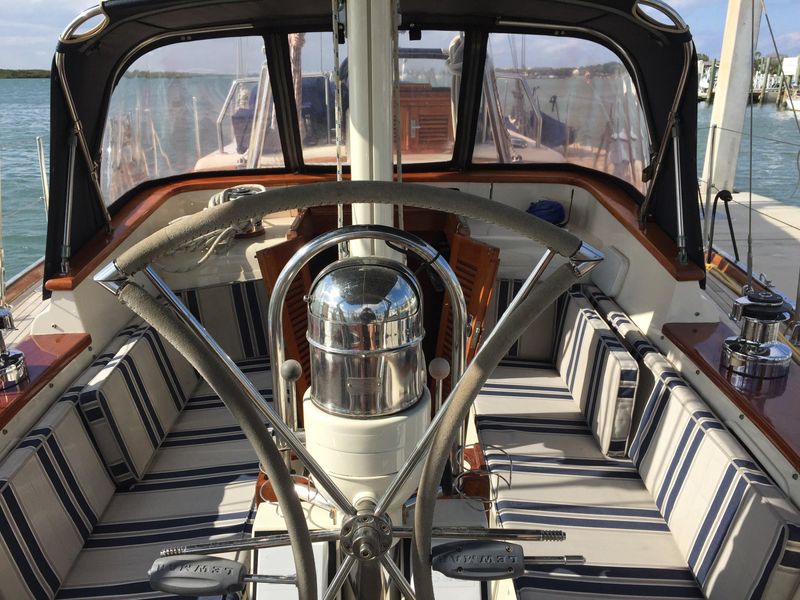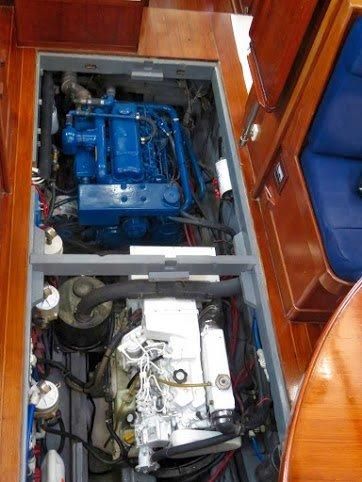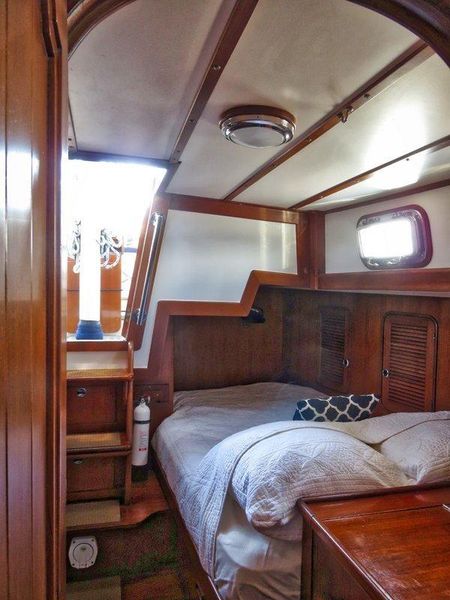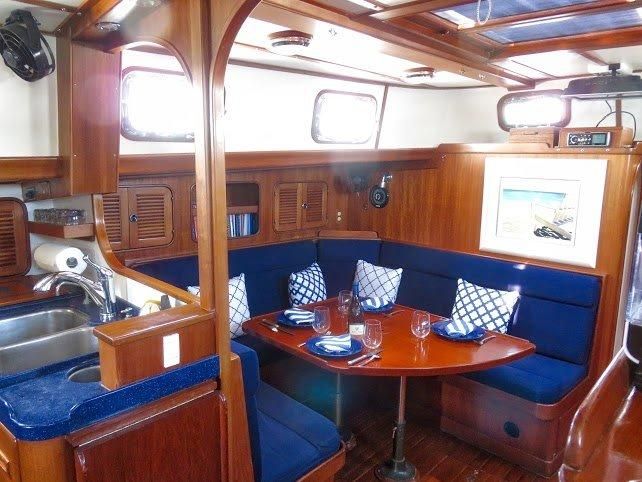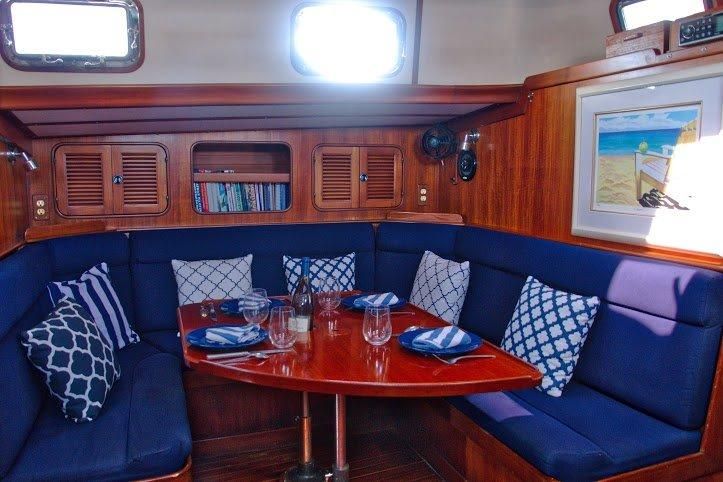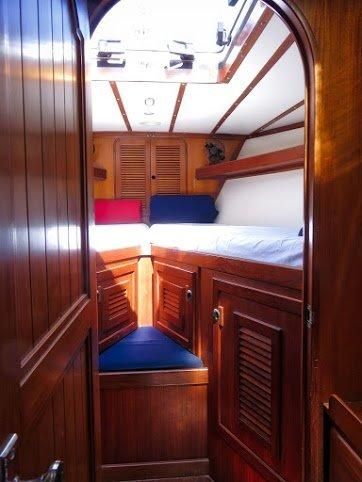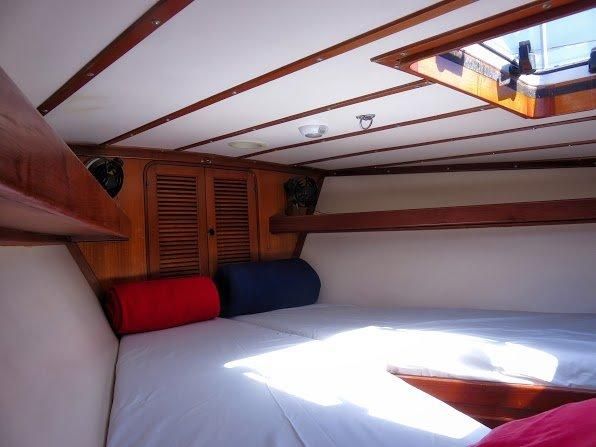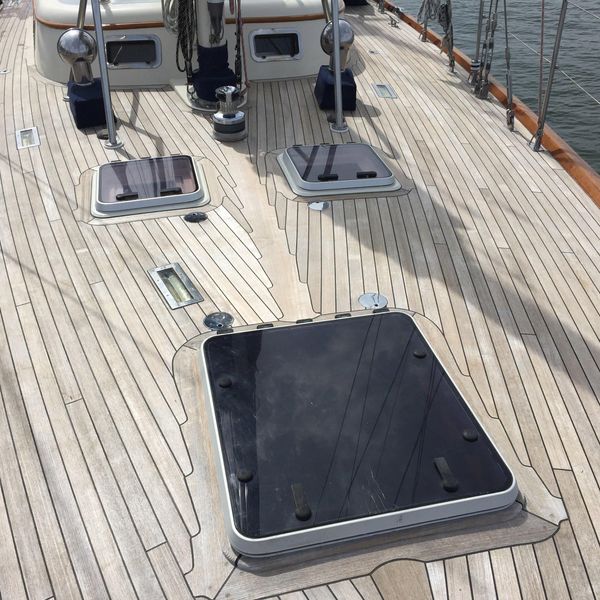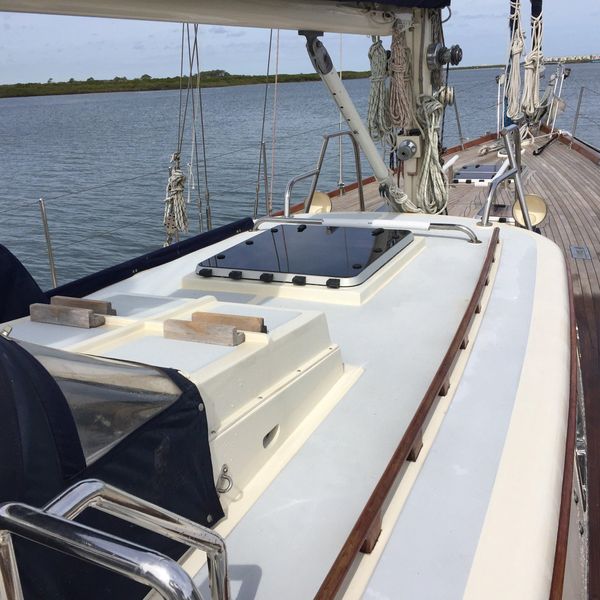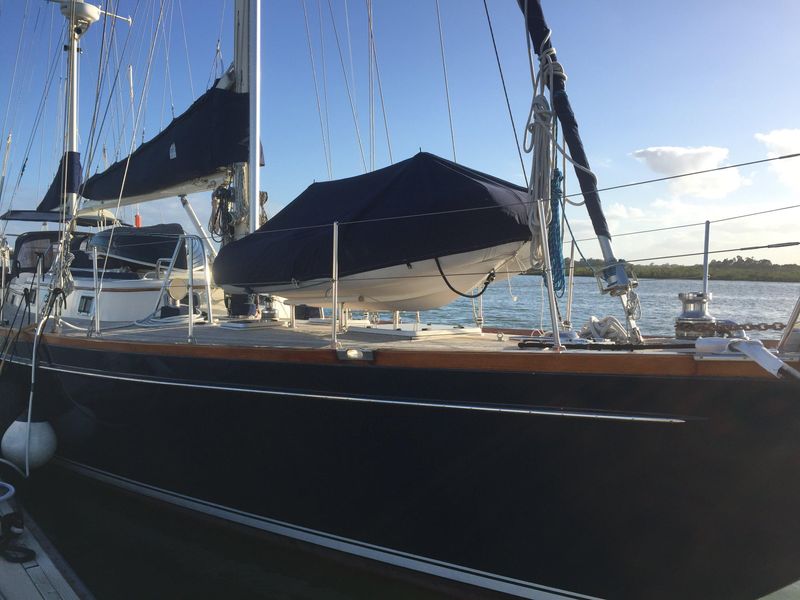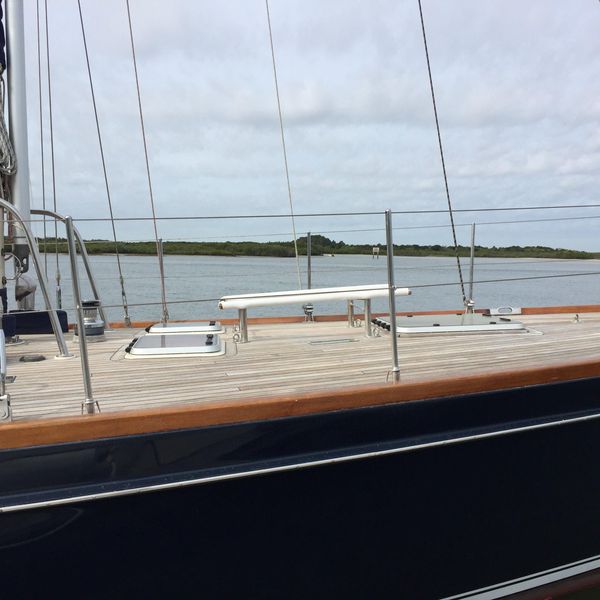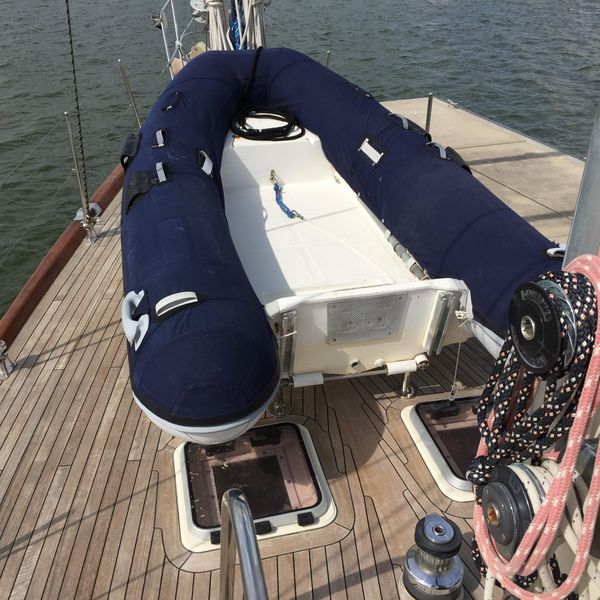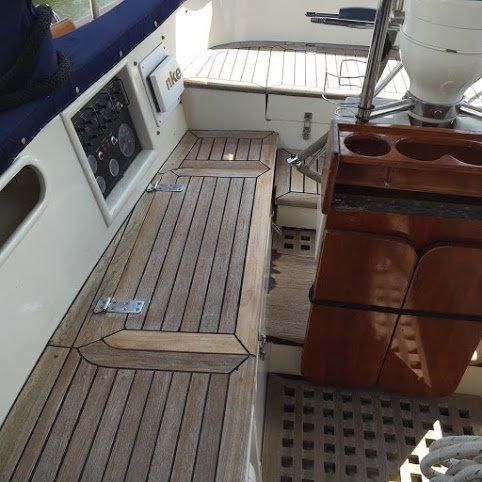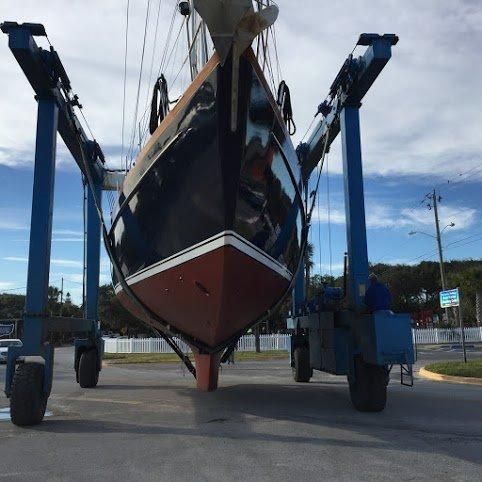 Hull Material: Fiberglass
Description
June 2022 QUIET WOMAN is now in Ft Lauderdale
15 March 2022 QUIET WOMAN has been recommissioned and launched. Her liferaft is recertified, the Epirb has been serviced with a new battery, hull buffed out and bottom prepped and painted all in preparation for her passage to the USA.
November 2021 (4) NEW 8D AGM Batteries
Quiet Woman is at  Nanny Cay in Tortola. Her sale is motivated by her owners finding their next boat after 24 years. This would be a propitious time to have a look if offshore passaging and island cruising are in your plans and future.
 There was consensus among10 Mason owners who have been aboard, all were effusive in complimenting the owner on upgrades, improvements, condition,  gear & equipment renewal and plain old maintenance.
  As sleek as she is stable and as practical as she is luxurious, QUIET  WOMAN is a true, blue water, cruising yacht.
Fitted out for any sailing adventure with the performance a serious sailor demands and the comforts of home a sailing family requires. In every harbor she is the prettiest girl at the dance; above and below deck.
In twenty-five knots she is laughing out loud. In rough weather she is a steady, comfortable ride and a good night's sleep off watch.
When a lifelong sailor and President of a major marine manufacturing company embarked on his dream of an open-ended sailing adventure, he chose a Mason 53′–or maybe she chose him. Everywhere you look you see the result of over 20 years of loving stewardship.
From the obvious:
New Teak decks, a galley equipped for a chef, custom-made, foam mattresses, custom interior and accommodation plan, Freshly painted engine compartment, engine & generator.
To the not so obvious:
All new Stainless Steel chain plates, Ceram-Kote treated  water tanks, new aluminum fuel tanks, All new standing rigging, new ' 16 headstay & inner forestay, '16 light sanding of teak decks (fair), '16 new hot water heater, '16 new air conditioner etc.
If you are contemplating setting sail, extended cruising, offshore passaging or island-hopping, QUIET WOMAN is a perfect partner.
Please click on Full Specifications for complete details and dating of a much longer listing of  upgrades and improvements.
Brightwork on deck recoated as needed  (not shown in photos)
Cabin soles varnished 2016 as well as flat surfaces (i.e. tables)
2017-18 NEW  rebuilt transmission
2017 -2018Complete engine rebuild
2019 All new mainmast wiring
The 1/2″ teak decks which were  new 7 years ago received a light sanding (10/16) and now feel perfectly fair to the touch and appear to be new.
This is one of a few cruising  sailboats in its class that is truly in," TURNKEY," condition. Step aboard with your provisions and gear and cast off; she is READY. Several experienced and professional sailors who have recently been aboard have commented that one of the things that impressed them the most  is her," TURNKEY, " condition and sea-readiness.
Full Specs
Boat Name
QUIET WOMAN
Dimensions
LOA: 53.5
LWL: 39.67
Beam: 14.83 ft
Maximum Draft: 6.67 ft
Displacement: 39,600 lb
Ballast: 13,360 lb
Bridge Clearance: 63.42 ft

Engines
Tanks
Fresh Water Tanks: 1 (400 Gallon)
Fuel Tanks: 1 (200 Gallon)
Holding Tanks: 2 ( )
Accommodations
ACCOMODATIONS
QUIET WOMAN has a well-proportioned accommodation plan  affording privacy in the aft owners' cabin (with it's own companionway,, head and shower) and generous volume in the forward cabins.
A V-berthed arrangement was added by the current owners all the way forward..A guest cabin is aft of this with a double berth to Port and a head including a shower just aft of it..
Next aft  to Port is the main saloon with a large U-shaped settee and table. Across to Starboard is a single  settee (extending transom) and outboard an upper berth.The dining table is on telescoping pedestals and can be lowered to provide extra accommodation, if needed. There are(2) wine bottle wells in the middle of this table.
The galley is abutting, aft and to Port (see GALLEY list below). opposite to Starboard 
Navigation station (see electronics)..
Custom latex (foam) Mattresses Aft cabin and forward  cabin, to rplace original
 2017 New interior cushions (foam & upholstery, 2017, Navy Ultra Leather) w/ Sunbrella covers, including V-berthed forward cabin.
 2014, modified bulkhead between galley & main saloon to open the space up
SolidTeak & Holly (not a thin veneer) cabin soles revarnished,2017
There is a full set of cruising covers for the upholstery
New 2016 headliner and interior facia around portlights are  white Formica  panels with teak battens, in main and aft cabins
There are (4) Custom Maxwell Weaver overhead hatches and (12) opening New Found Metals portlights for light and ventilation. There are screens for all hatches and opening portlights. Hatches and opening portlights replaced by owner.
Leecloths for all berths
Fitted linens and coverlets for berths
 FLAT SURFACES i. e, TABLES FRESHLY COATED WITH  VARNISH MAY 2017 (Not shown in photos)
GALLEY
2007 TASCO 3-BURNER Stainless steel stove w/oven, gimbaled, propane
 2016 LPG solenoid shutoff                                                                              2014 LPG flex hoses and valves
(2) 20# propane tanks stored aft in an overboard draining locker.
Top-loading icebox,  120 Volt Seafrost freezer/ refrigeration w/ holding plates; Rebuilt box with New, 4", closed-cell, insulation and gaskets, 1998--wired to run off inverter in emergency
1998 Colmatic, 12 Volt refrigerated Day Box

Sink, double Stainless Steel w/  New 2015  Delta H & C pressure, water faucet, NEW 2015,Whale Freshwater & Seawater foot-pump s

 1998 Corian countertops in galley & heads.                                                 
 Black & Decker Toaster/ oven
Nespresso  Expresso maker
Built -in wine cellar, 2 case capacity
2013 Contoure Microwave
Full set of flatware & dishes
Full set of pots & pans
Hinged swing=up teak counter extender
ELECTRONICS & NAVIGATION
        ** 2007, Raymarine C-series Chartplotter/ Radar
** 2004, Furuno GP32 GPS, WAAS
** Autohelm 7000 autopilot w/ cockpit display only, linked to  hydraulic drive as a backup to the NKE control head
**2004, NKE hydraulic Autopilot (with man-overboard feature)
** SEE ADDENDUM
ICOM SSB 700 Pro 24 w/ ICOM  AT-130Tuner                                               
2018  B & G Hydra Masthead sending unit, 2021 new depth transducer
B&G  HYDRA sailing instruments 
ICOM M402 VHF
Iridium external Satellite phone antenna (phone excluded from the sale)
 2018, Uniden Depth sounder, transducer mounted forward
 2015, AIS Vesper WIFI w/ masthead mounted antenna
ICOM ICM1 handheld vhf
Ritchie Binnacle compass
2017 Mast- mounted Glomex TV/ Stereo antenna
 WIFI Big Boy - Long Range System, w/ masthead antenna
2017 LG digital flat screen TV 12/120V
2013, Fusion Stereo w/ 4 speakers 
ELECTRICAL
2019  NEW all mainmast electrical wiring  and internal wiring conduit, mast lights
1998 Main AC/ DC Electrical distribution panel, all new wiring (old wiring removed)
1998 Battery switches  and common ground panel w/ all New wiring, 
2022 (4) NEW 8D 245 amp hour AGM batteries
1998 Promariner  50-3 battery charger, 
2014 Victron Energy Multi Plus 3000W inverter/ charger w/ remote
2006 Cantalupi LED lights & fixtures (GFI) in Heads & Galley
 2017 Marine Air / Air Conditioning, 16,000 BTU
(3) 30 amp shore power cords
(1) 50 amp shore power cord with Y adapter
(10) 12 V fans
2001-  8 KW Northern Lights Generator, , Top-end rebuilt 2003, Hours2334,
2018 Generator removed from boat and professionallyserviced & painted 2018, Oil analysis performed annually. Engine compartment & bilge cleaned and repainted before reinstallation.
2013 gen. starting battery
2014 S /S exhaust elbow,
2014 exhaust manifold
2019  sea water pump
 120V Shorepower (2) 50 Amp Outlets
2017 (2) Guest Galvanic Isolators with breakers per ABYC
2017 Full ABYC Circuit Breaker Box for 120volt shore power
ENGINE / PERKINS 4236/ 85 HP @2500 RPMs & Mechanical
In 2018 the engine and generator were removed from the boat and taken to the mechanic's shop. The Perkins was completely disassembled on the bench. The head, valves were sent out to specialty shops to be remachined to original spec. the valves were then set to proper spec. The engine was reassembled with new rods and bearings. New Lift pump and water pump were installed. The front cover and rear seal were replaced with new. The starter, alternator, injection pump and injectors were all sent out to specialty shops for inspection and reconditioning. The heat exchanger, transmission and engine oil coolers were inspected, acid- washed and pressure tested, before reinstallation. All new hoses and pipes were installed with new hose clamps. All new Gaskets and seals were installed. New thermostat.  Cylinders were separately heat tested, under load, and passed within correct parameters. The engine compression was checked and found to be within spec on all cylinders. After total reassembly the engine was run on a test bed and found to be running normally. 
The engine compartment and bilge were cleaned and painted. New engine mounts were installed. The engine  and a new rebuilt transmission were installed, and seatrials were successfully performed in March of 2018.
2017 New propellor, shaft, bearings and PSS shaft seal system installed
Balmar 185 Amp alternator reconditioned 2018
2018 New rebuilt Borg Warner 1.91 :1 treansmission
2015 Rebuilt stainless Steel exhaust system
2004 Groco bronze seawater strainers
Racor 500 FG Dual Bypass fuel filter & watrer separator with vacuum gauge(this is a belt and suspenders system; one filter online and a clean backup offline)
Electric fuel pump(for bleeding engine)
12 volt oil change system
Remote oil filter
1998 New engine panel with tach, alarms, voltage and oil pressure gauge
1998 Algae X fuel polishing system with pump
2014 Rebuilt Yacht Specialties Steering, quadrant, blocks and cable
Range 800 miles
2001  New engine wiring harness 
BATTERIES
           2021 NEW (4) Trojan 8D 245 Ah AGM batteries
2017(1)  Group 27 Generator starting battery
 amp meters and voltmeters
TANKAGE-FUEL
2000 New (2) 100 gall. fuel tanks, custom- built of heavy gauge aluminum w/ new Wema fuel gauges, both tanks removed, emptied, cleaned, reinstalled and refilled in 2005 As they were out of the boat both tanks had doubler plates added and New Starboard was laminated onto the bearers that the tanks sit on.
Fuel tanks have been topped off continually throughout this owner's stewardship(never left partially empty)
-Fuel is  filtered through the ALGAE-X polishing system, frequently. Not a drop of water has shown up in the RACOR fuel and water separators since the new tanks were installed
WINCHES
All Lewmar winches serviced and rechromed,1998 and servic annually at start of season
(2)Lewmar 55 CST Primaries, 2 speed
(2) Lewmar 42 CST,Secondaries, 2 speed
(1) Lewmar 40 CST, 2 speed on cabintop
Mainmast (1) Lewmar 30,
-                (1) Lewmar 16, 
                  (2) Lewmar 42, CST
                   (1) Lewmar 30, CST
On foredeck (1) 2010 Maxwell 44 ELECTRIC,halyard, reef 2 speed, CST, Winch rebuilt 2020 with New Gearbox and baseplate. New motor in 2022
Mizzenmast  (1) Lewmar 16
FRESH & SEA WATER & PLUMBING
2017  Shurflowater pump & Accumulator tank (2 spare pumps)
 (4) Stainless Steel freshwater tanks steam-cleaned w/ new gaskets on cleanout ports, 1998; total water capacity near 400 galls.
2014, Interiors of  UpperTanks were CE-RAM coated (sealed) after inspection ports added between baffles
Village Marine 800GPD reverse Osmosis watermaker,1998,  2021 New (in the package) membranes, 2014 pump rebuilt 
All freshwater hoses and fittings  (Whale)replaced, 1998
 2014, Xintrex gauges for all water tanks
Freshwater manifold
2016 Whale Faucets
Dual fresh water filtration system 
2017 S / S  11 gallon hot water heater
2007, Shurflo 5.3 Galls./minute /45 PSI Seawater Washdown pump, 
--Whale seawater foot pump at galley sink
MARINE SANITATION
2006 (2) Techma, electric, marine toilets, REBUILT 2017
-- (2) Integral Fiberglass Holding tanks (1 each fore and aft) with gauges, thoroughly cleaned and serviced, 2015 
(2) Whale Gulper 220 diaphragm Shower Sump pumps
BILGE PUMPS
 2019 (2) RULE 2000  auto/electric/manual, submersible bilge pumps, aft bilge. All bilge compartments limber through their own hose to the aft bilge compartment's deep sump where the bilge pumps are located
Whale Gusher 30 manual bilge pump
Bilge pump counter at Nav Station
HULL& DECK
       2005 NEW Teak Deck, entirely replace with ( 1/2" Teak Decking        Systems) Woodstock, Antigua. Glued to subdeck.
Oct 2017 Teak decks lightly-sanded, caulking shaved at Hinckley
1998 1000#s lead  added in bilge below engine; epoxied in place  
2005 Hull Awlgripped  faired & painted Flag Blue
2005 Superstructure & cockpit Awlgripped
Bottom , 2009 stripped,dried, fully prepped, faired, primed , epoxy barriercoated & bottom-painted  with Seahawk, 2009 --Brooklin Boatyard, ME
Bottom prepped & recoated with bottom paint, annually, last Feb 2022
2005 Custom-made, solid fiberglass laminate Rubrail  w/ Stainless Steel Striker
All seacocks, 1998, replaced with New or reconditioned Bronze seacocks - continually checked and serviced or replaced as appropriate
2021 BRIGHTWORK RECOATED   (not shown in photos)
2021, replaced depth-sounder fairing block,
Hull is Solid FBG laminate
Full Keel with encapsulated, lead ballast
2017, New Lifelines & Fittings
2007 12 Volt Side Power Bowt-hruster,
NEW 2015, Bilges  prepped and repainted
**Hull   & rudder were sounded in 2020 by Captain Williams, SAMS, SCMS, FEMAS a certified marine surveyor in the U. S. , U. K., and EU he reported, "No delamination was detected." Additionally he saw no evidence of hull repairs, damage or blisters
2020 Rudder bearing,  Serviced
1998, Kato Stainless Steel Davits for sailing dinghy
2003,  Stainless steel tube Bimini frame w/Seamark top,
2006,  Stainless steel chocks (cradle)on foredeck for inflatable dinghy with outboard mounted on dinghy
Carib 10' hard bottom inflatable w/ Sunbrella cover & 15 hp Yamaha outboard, 2 w/ stainless steel lock, outboard fully serviced, 2020. 9 & 3 gall fuel tanks-anchor and emergency gear for dinghy
1998, Sailing & rowing dinghy 7.6', New 2010 Sail
Swim ladder-  Folding Stainless Steel tube with teak style treads - attaches to genoa track Port or Starboard companionways
Folding Teak cockpit table at Binnacle
(2) Stainless Steel Destroyer type steering wheels; 1 standard and the other a Lewmar Folding type
2016, (5)Taylor fenders w covers
(3) Ball type fenders
(2) Nicro solar vents powered with rechargeable batteries) Aft head and forward cabin; 1 intake and the other expelling air to create continual ventilation.
SAILS & CANVAS
2001, Doyle Mainsail-fully-battened w/ stackpack  very good, reconditioned, 2010, Cleaned and serviced 2017 at loft.
2003, Schaefer Furlers, headstay and inner forestay, Serviced  2016(Wire rope stays replaced, Hinckley)
2007, Doyle 130 Genoa, Doyle, Very good, cleaned and serviced  2016
2009, Doyle Mizzen, fully-battened w/ Stackpack,,,  Very good, cleaned and serviced,  2016
Sobstad Furling Staysail, Good
Hong Kong Storm Jib, Like new, unused
Hong Kong Storm trysail, Like new, unused
Sobstad Cruising spinnaker w/ sock, Fair, patched, serviceable
Sheets & spare sheets for each sail
CANVAS:
2005, Seamark dodger & Bimini (Reconditioned 2019)
2017 dodger forward for main saloon companionway
2006  mooring covers,
2017, Fairclough Boom tent full boat storage cover
SPARS & RIGGING
2019 Mainmast electrically rewired, and all rigging inspected by Triple S Rigging Service, Antigua.
2019 All Chainplates inspected, deck covers lifted cleaned and rebedded at deck penetration.
2016 Headstay & Inner forestay replaced by Hinckley
2019 Tides track for mainsail
2010 Forespar main and mizzen masts stripped to bare metal, prepped, primed and Awlgripped, Brooklin Boat Yard
2010, all mast hardware & sheaves
2009-10 All  Standing rigging, Seco South, Running rigging
2019 Most running rigging replaced
2020,  Navigation and other mast lights, wiring  LED lights
2003,  Schaeffer Roller furling headstay and inner forestay furler,wire rope stays replaced and furlers serviced at Hinkley  2017
2010,  Forespar vang, rebuilt 2018
2010,  Ronstan Mainsheet Traveller system,
2010,  All blocks replaced with new  or reconditioned blocks
2010,  Forespar lightning protection on Main & Mizzen masts
1998-99  ALL NEW 316L Stainless Steel Chainplates, Inspected and recaulked every 5-7 years; last in 2019
2010  Forespar Spinnaker pole
2019-20,  Maxwell 44 electric, halyard,  winch rebuilt with new gearbox and base plate. 2022 New motor
(10) extra blocks including snatch blocks and manual stoppers
SAFETY GEAR & EQUIPMENT
Ground tackle :(1) Delta 88, anchor
--                     (1) Delta 44, anchor
--                    (1) Fortress FX 55, anchor 
400'  ACCO 3/8 Chain, HT
600' 3/4" Mega Braid anchor rode
(2) line snubbers
 2012,ACR-406 EPIRB certified with new battery 2022
Horseshoe lifering w/ man-overboard, pole and Forespar light
15  standard PFDs,
(5) 3/4" Mega Braid docklines
2011, Switlik MD-3,, 6-man Automatic Life- raft, inspected & Recertified 2022
(6 )Fire extinguishers
First aid kit
Horn mounted on Mizzen
Floodlight mounted on Mizzen
Forespar lightning strike defusers on both masts
Radar deflector mounted on Mizzen
Ditchbag w/ supplies,  (5)  survival blankets, flares, etc.
Lifesling
HOLDING TANKS & SEAWATER PLUMBING
Holding tanks 2009, 2015, emptied and thoroughly cleaned
NEW 1998,all hoses
NEW 1998, Whale shower sump pumps
NEW 2007, high pressure saltwater washdown pump
ADDITIONAL
FULL inventory of manufacturer's instruction/owners manuals
Custom manual for all vessel systems written by owners
Extensive spare parts inventory and tools
Full log of maintenance  (invoices) dating back to 1998
March 2020 survey available on request
2016 WEEMS & PLATH Clock & Barometer
QUIET WOMAN, Let her speak to you.
EXCLUSIONS
Painting on main bulkhead ( frame can convey).
Personal gear (clothing etc.)
Binoculars
 owner's Power Tools
Boat Name
The Yacht name, QUIET WOMAN, may be retained and used by  a Buyer on the transom of the Yacht and paperwork pertaining to the Yacht i .e . Documentation, radio licenses, pfds, etc.
QUIET WOMAN is a registered trademark and may not be used by anyone other than the 
current owners.
Disclaimer
The Company offers the details of this vessel in good faith but cannot guarantee or warrant the accuracy of this information nor warrant the condition of the vessel. A buyer should instruct his agents, or his surveyors, to investigate such details as the buyer desires validated. This vessel is offered subject to prior sale, price change, or withdrawal without notice.
This boat may not be listed by Massey Yacht Sales & Service and may be listed by another brokerage company. This listing is made available as a courtesy to those visiting our website.
The advertising broker is merely providing this information in an effort to represent you as a buyer in the purchase of this vessel.