1986 Tyler Custom 62 cutter
ID# 4043432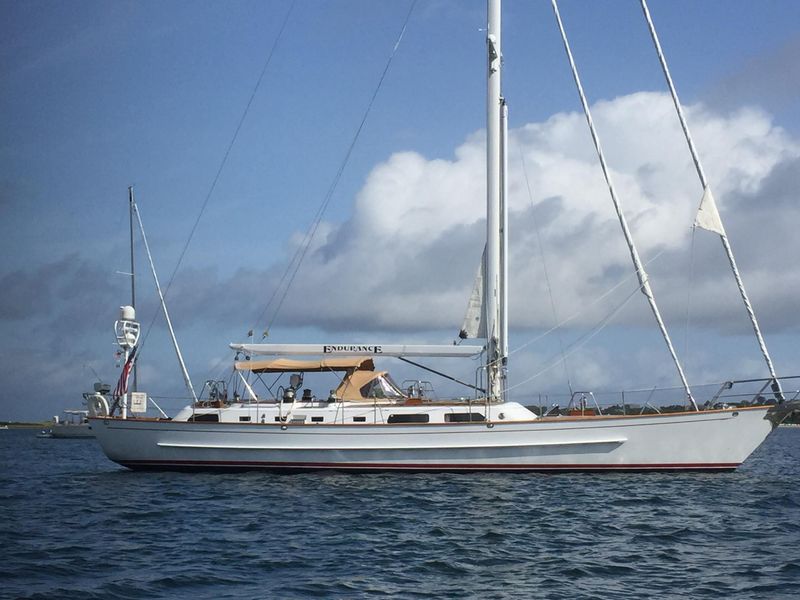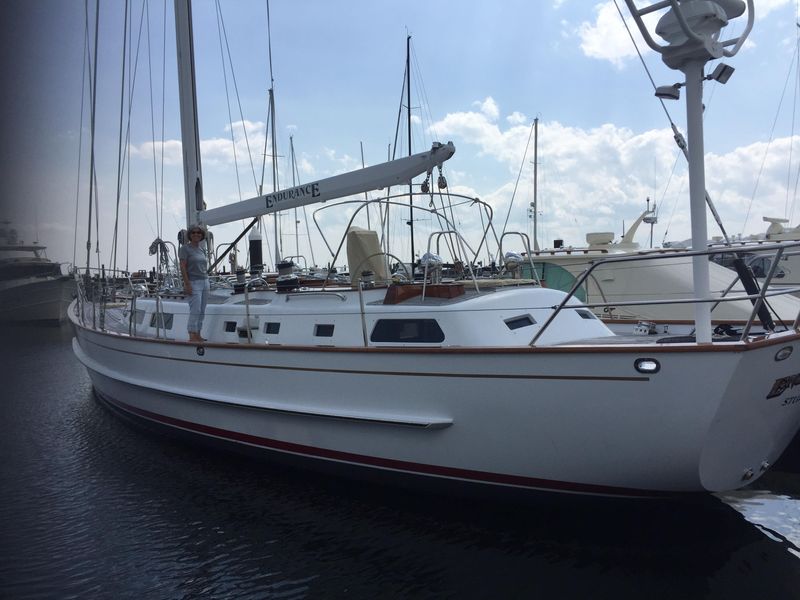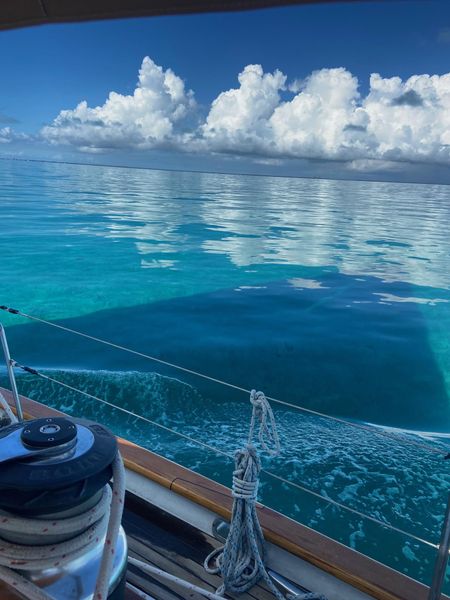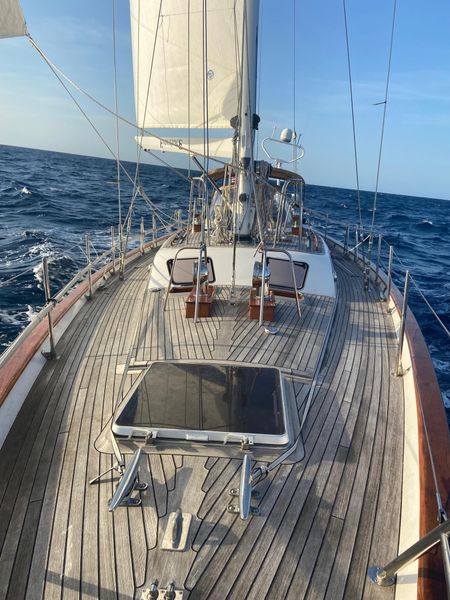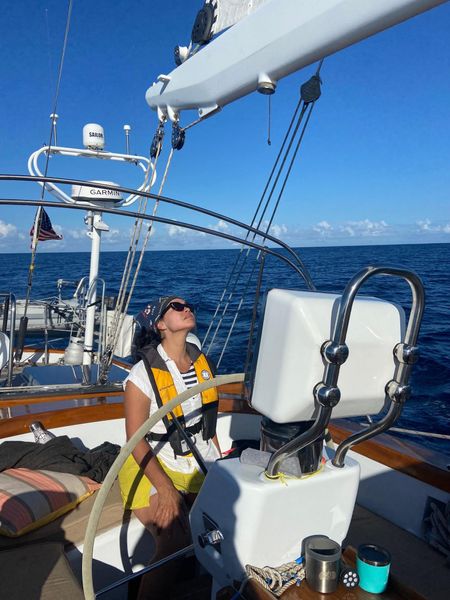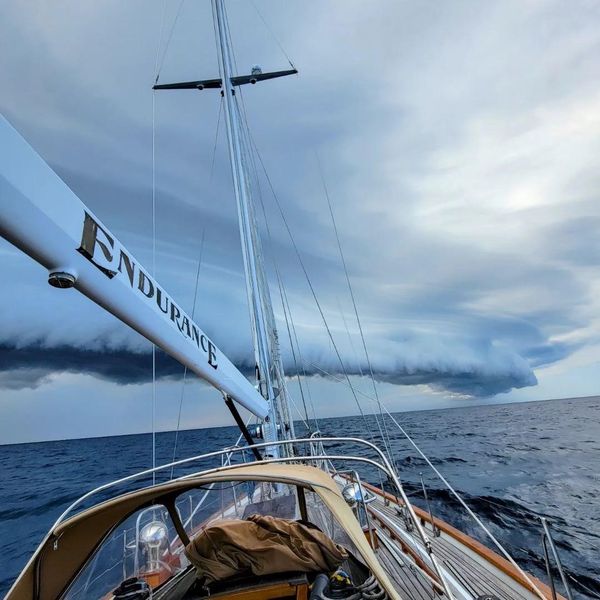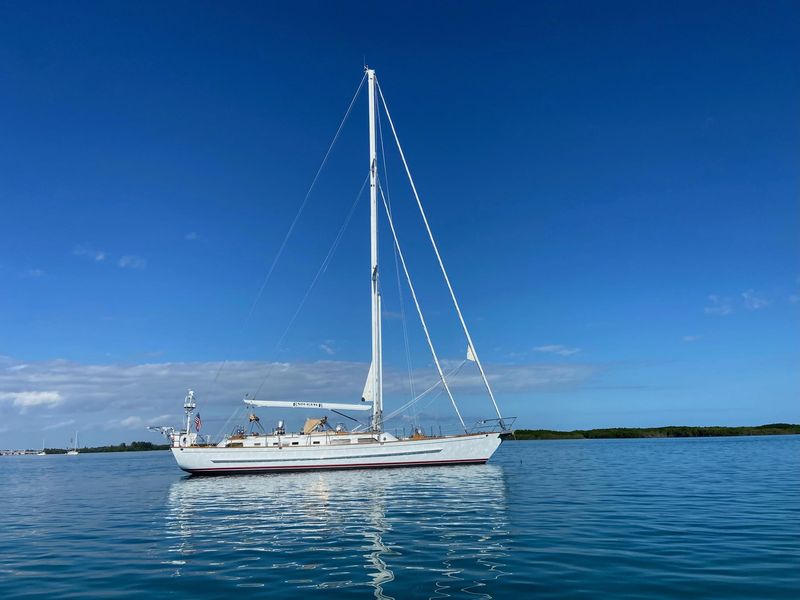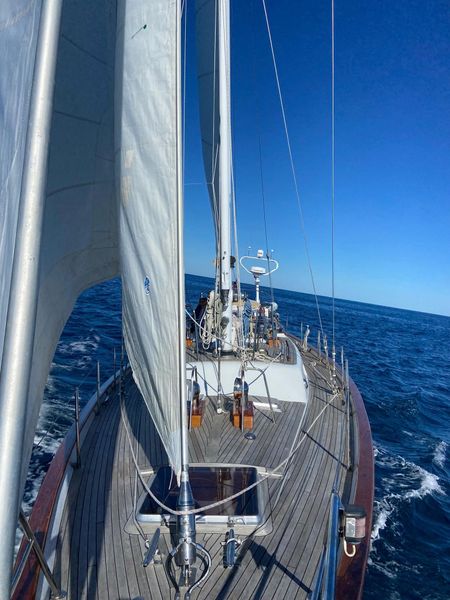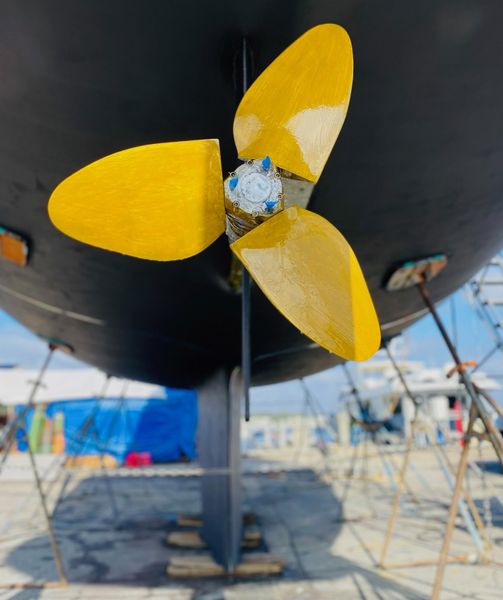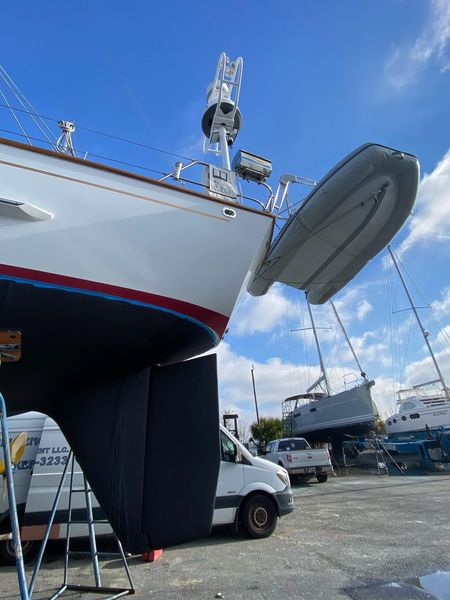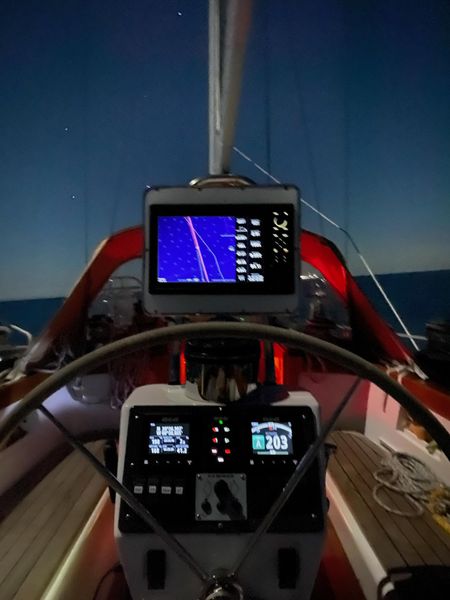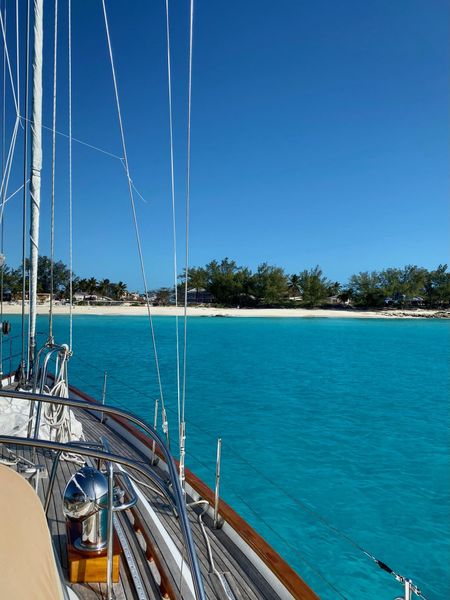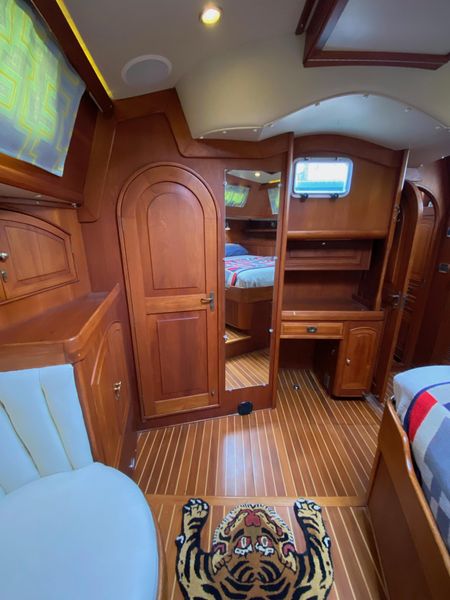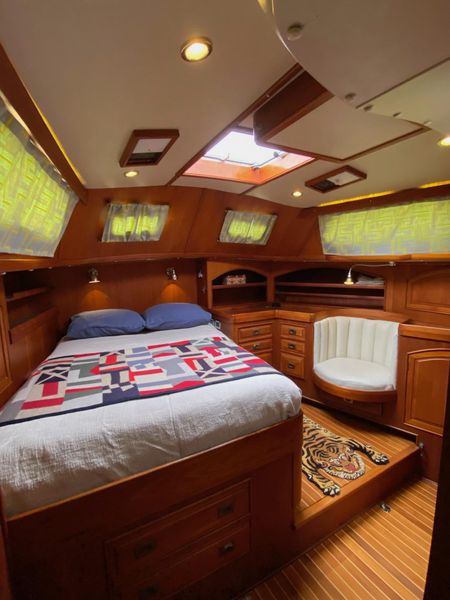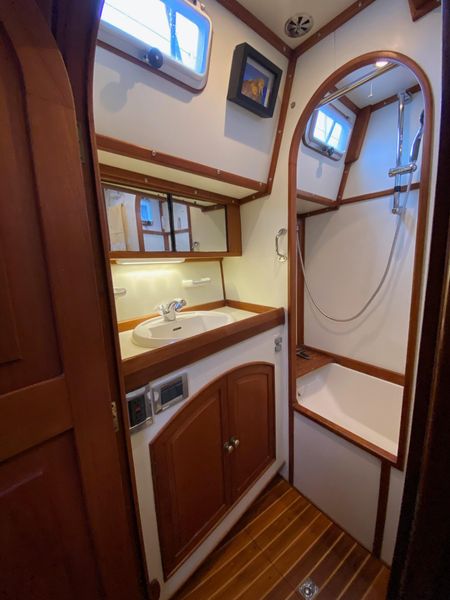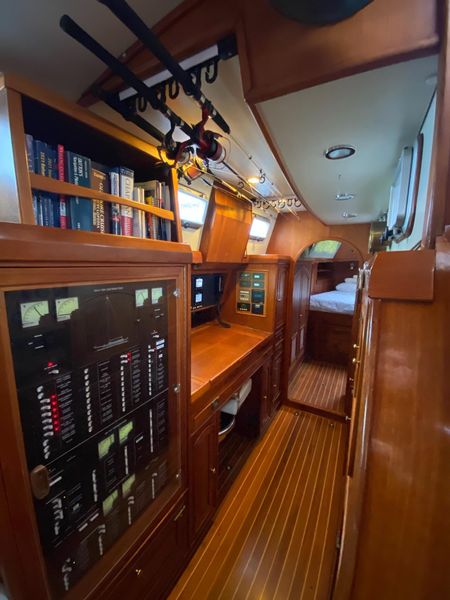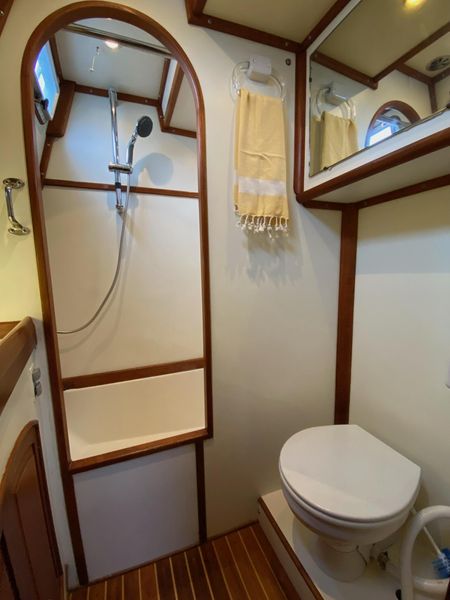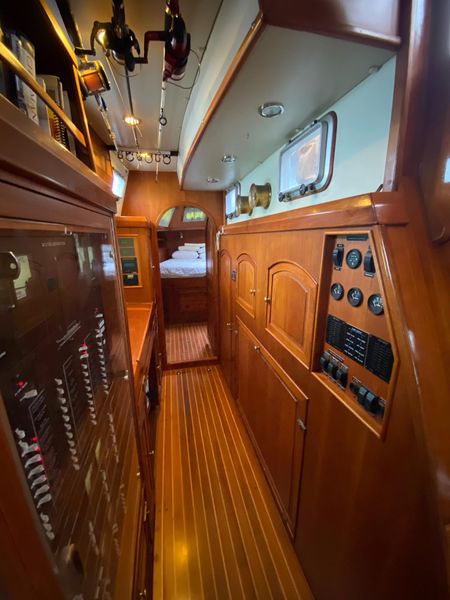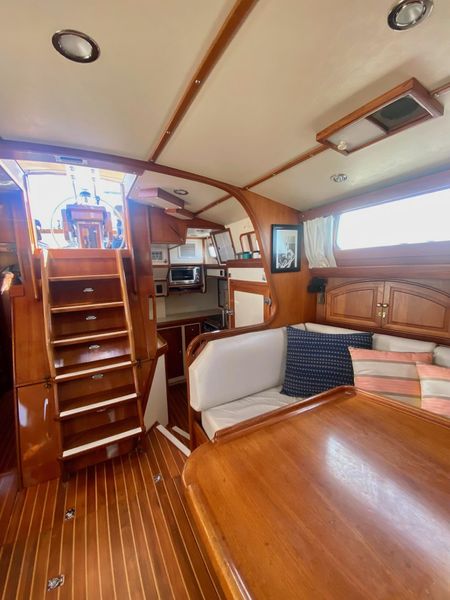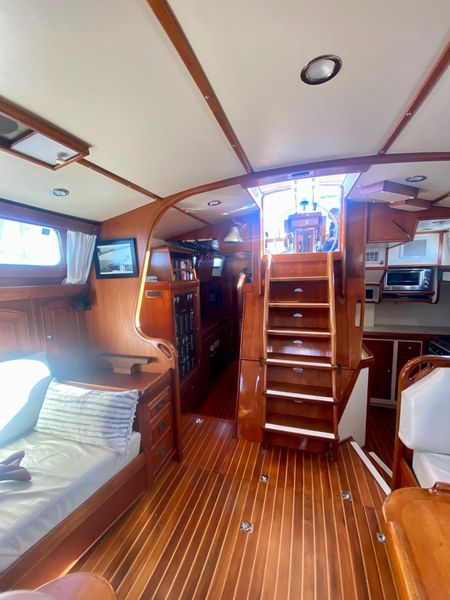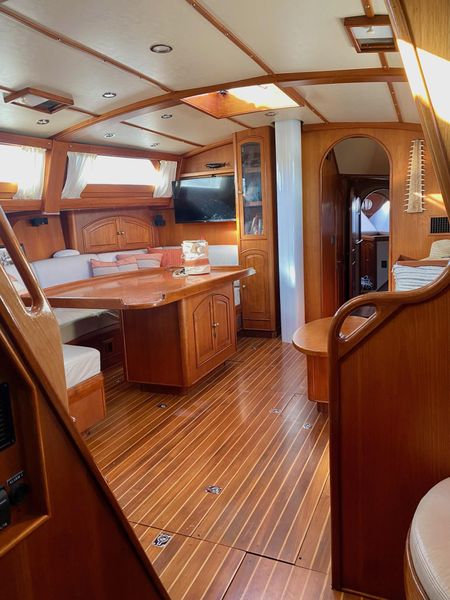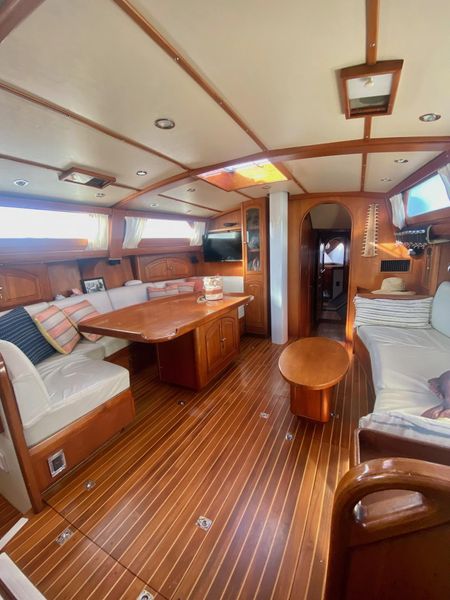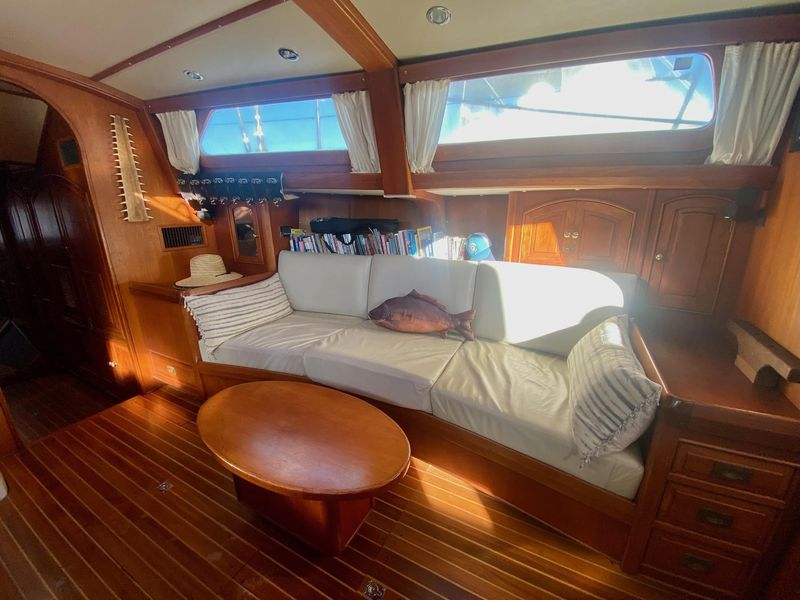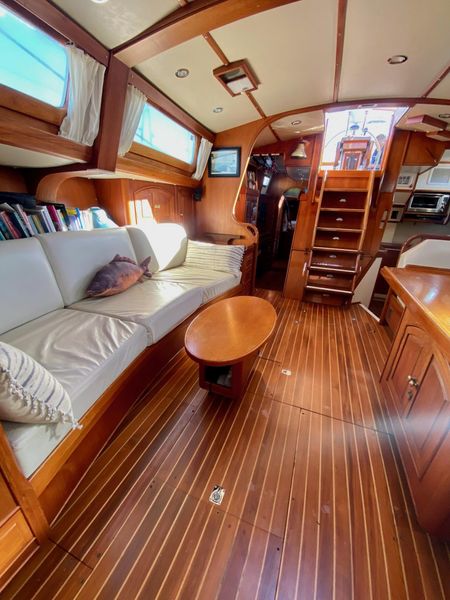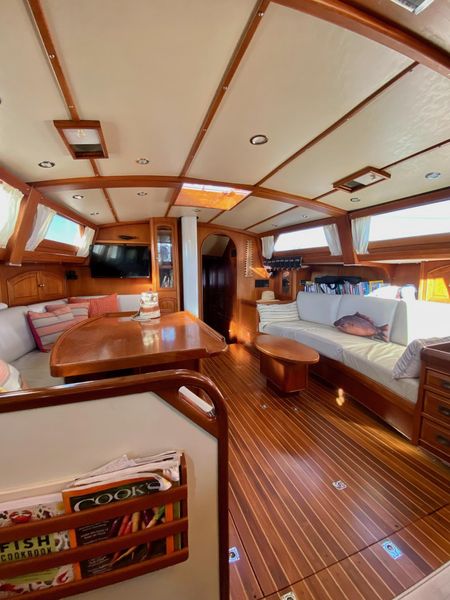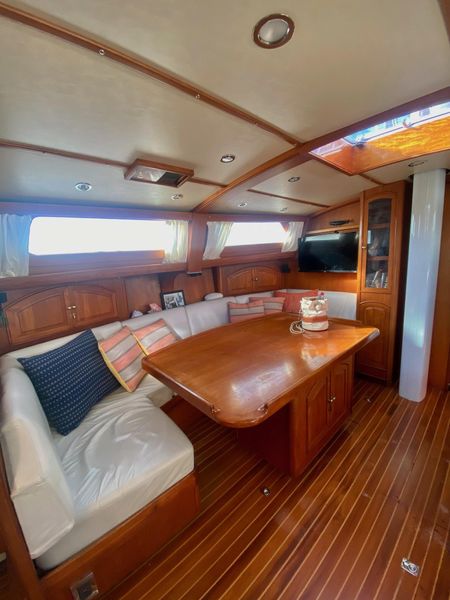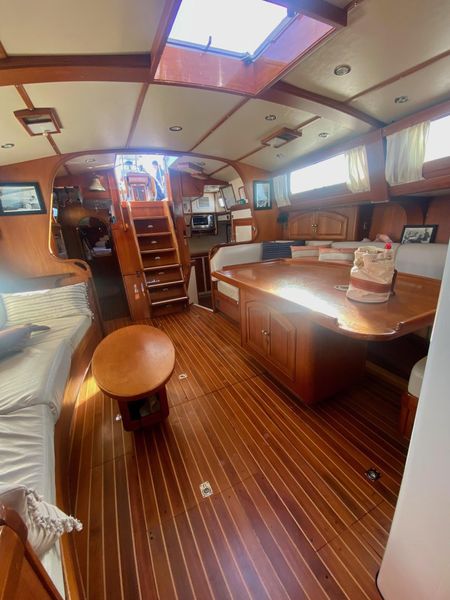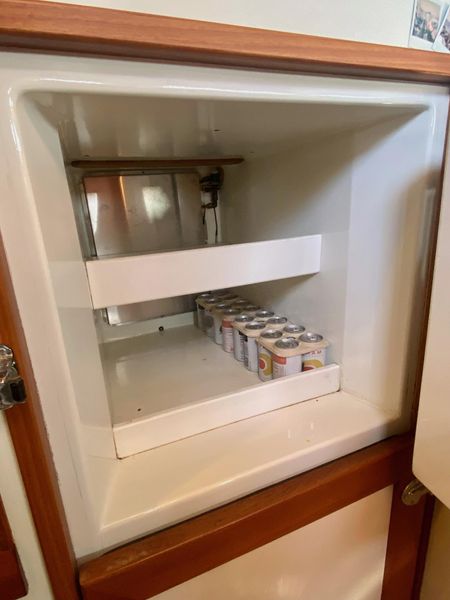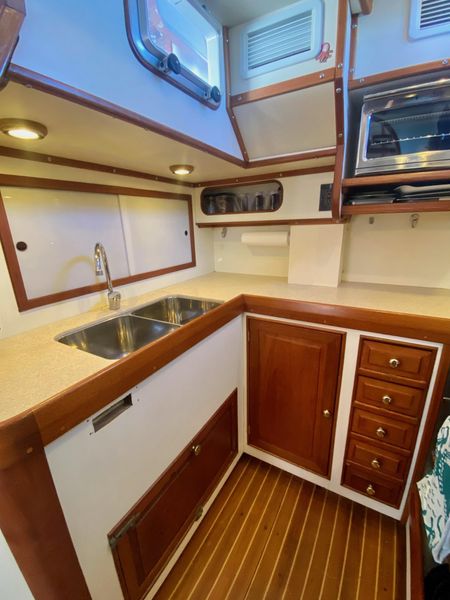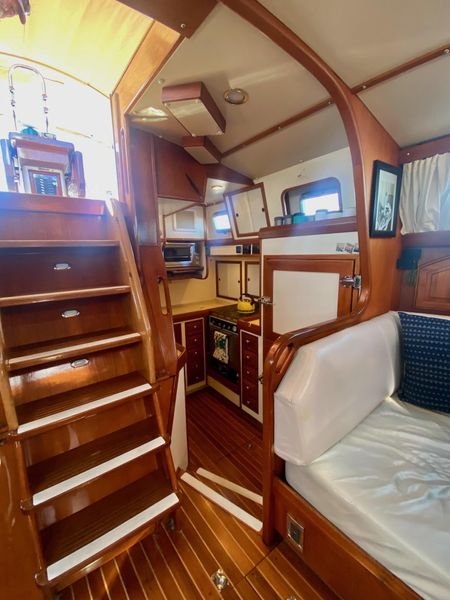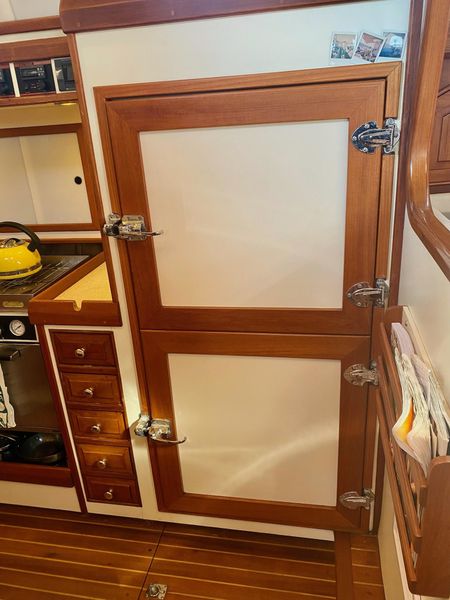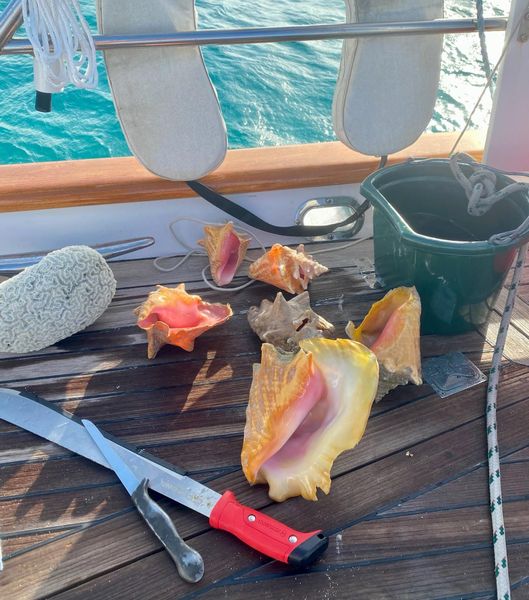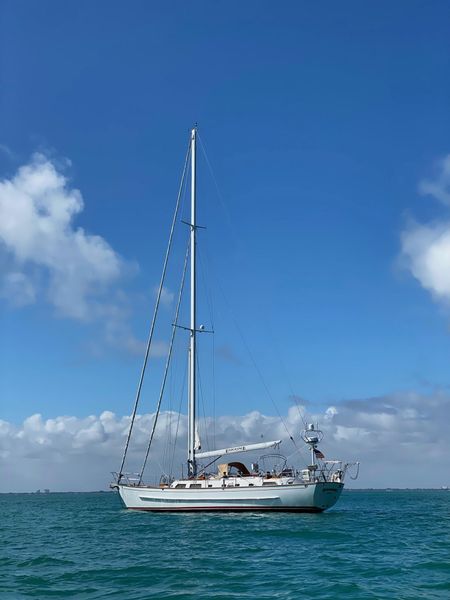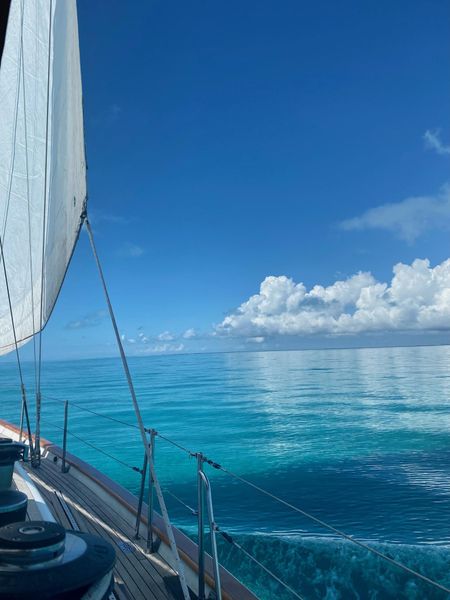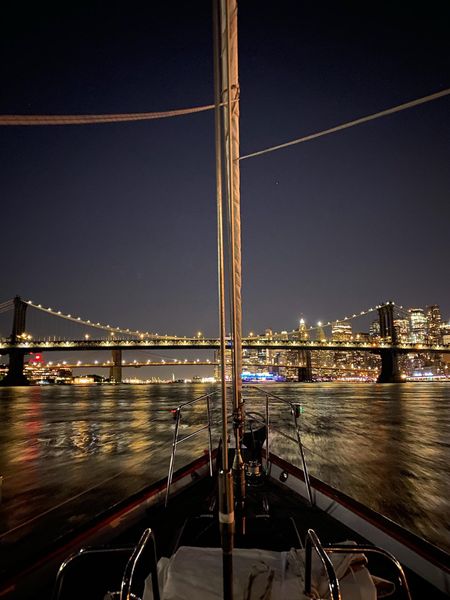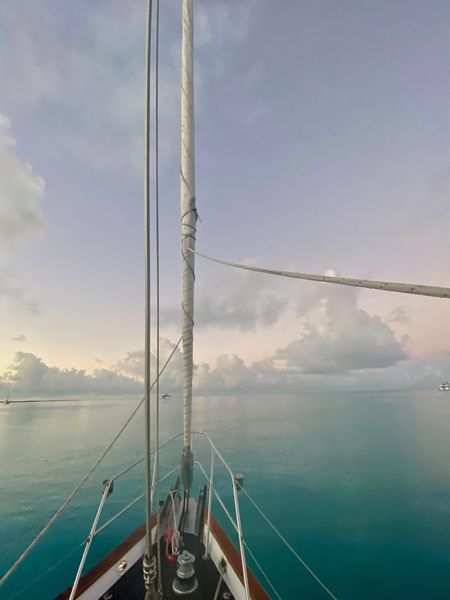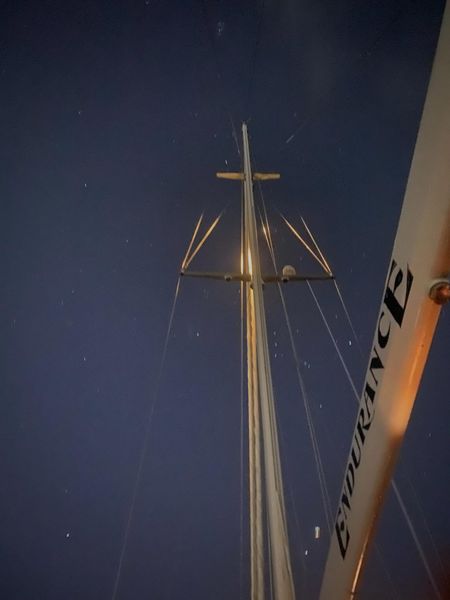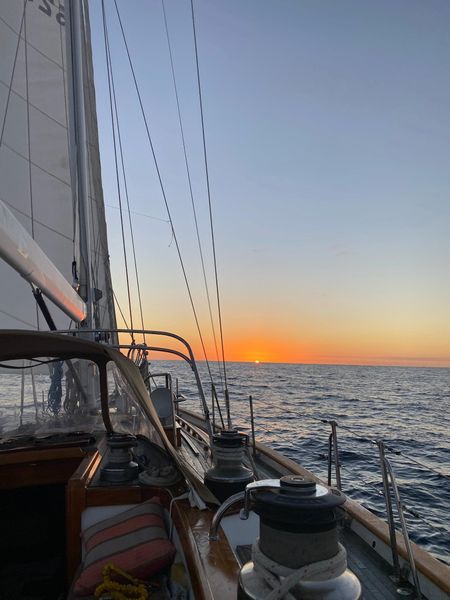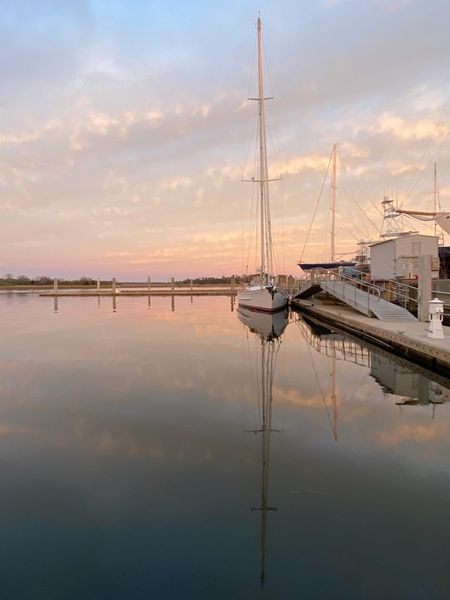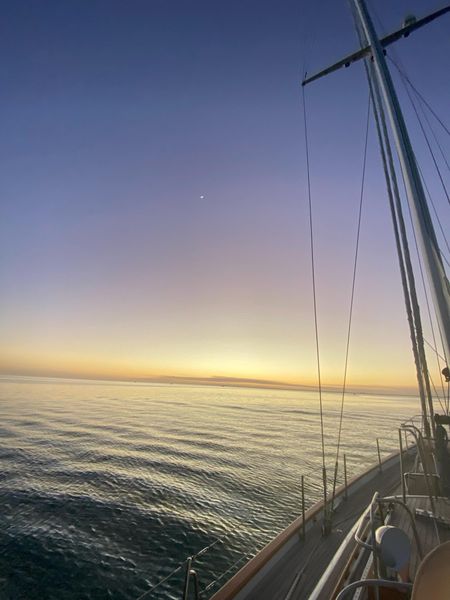 Hull Material: Fiberglass
Description
Endurance is a long legged super cruiser capable of fast, comfortable and safe passage making.
She is a yacht capable of deep water passage work and she is not a lightly skinned bay sailor. She is durable, stable and seaworthy for real cruising and she is fast and comfortable. Her deep, 8 foot, keel makes her a spectacular sailing yacht, worthy of trans ocean sailing.
This spacious and finely built yacht is a custom yacht, built to higher specs than most 60 footers, and truly, she is like no other. She is elegant, heavy, hearty, strong, and has excellent access to systems, great storage space, built with heavy fittings and gear, in all, she is an ideal cruising boat for those looking to return safely.
She has three staterooms, one being a commodious master stateroom aft, and she has two heads. The aft cabin, owners stateroom, is sumptuous and large.
Built in England she is proper and luxurious. She has a generator, air conditioning, a big Perkins 120 horsepower diesel engine. She also has a water maker and hurricane diesel furnace heating system.
Her build specs called for a design that could cruise the Caribbean or Mediterranean but also do so in less than ideal conditions, and doing so while owner and crew could return safely.
This is a once in a lifetime chance to get the right boat that has been refined, tested, put thru the paces, checked and rechecked, analyzed and reanalyzed. 
Always owned by great owners, ENDURANCE has pedigree and build quality rarely seen today. 
Full Specs
Boat Name
Endurance
Dimensions
LOA: 62.17
LWL: 50.58
Beam: 15.67 ft
Maximum Draft: 8 ft
Ballast: 20,500 lb
Bridge Clearance: 88 ft
Dry Weight: 62,000 lb
Headroom: 7.17 ft

Engines
Engine Brand: Perkins
Engine Model: 4M-135
Engine/Fuel Type: diesel
Engine Power: 135|horsepower
Engine Type: Inboard
Tanks
Fresh Water Tanks: 2 (200 Gallon)
Fuel Tanks: 2 (300 Gallon)
Holding Tanks: 2 (40 Gallon)
Accommodations
Number of heads: 2
ACCOMODATIONS, LAYOUT
Endurance has a delightful comfortable, open interior. There are three staterooms with three heads, additionally the main salon is quite comfortable with two enormous couches, a dance floor in between and an award winning galley and Nav Station.
FORWARD STATEROOM: Staring at the bow, the forward V Berth, has small wet head on port and hanging locker opposite. There is great storage, and this area could be an immense storage area for those only seeking a two stateroom layout. New Cushions 2022.
PASSAGEWAY: Next aft, the passageway aft has hanging locker and cabinets on starboard.
GUEST CABIN: Next aft on port, the super comfortable berth with newer bedding, mattress, etc., and forward, an ensuite head forward with hanging locker and drawers. Shower.  The berth is nearly a full sized bed.
PASSAGEWAY: next aft, cabinets w/washer/dryer and water maker opposite guest cabin in passageway.
MAIN SALON: The main salon with its C-shaped seating around a very large dining table to port and curved settee around small coffee table to starboard is superbly comfortable, more like the dimensions seen on a 75 footer. There are cabinets throughout the salon, with clever storage spaces making for tremendous volume. New ultraleather cushions.
GALLEY: The U-shaped galley is aft of the salon, and to port. It is a half step down.
AFT PASSAGEWAY: the passageway aft to starboard has electrical distribution panels in a covered lexan door for protection, and the navigation station has a delightful desk with multiple drawers and cabinets. Opposite, engine access inboard, and access to chillers and multiple bits of mechanical equipment
AFT CABIN: All the way aft, the owner's suite, a generous stateroom with larger than full sized berth, private head, opening ports, brass reading lights and dorade vents. Forward is a vanity desk with cabinets, drawer and folding, "tuck-away" seat, identical to the Navigators seat. Large drawers, very large hanging locker and small cubby storage in multiple spaces
AFT HEAD:The aft head includes an oval porcelain sink with H&C water, mirrored sliding doors with storage, Jabsco Electric Head, walk-in shower/tub and is finished in Herreshoff style white panel with teak.
INTERIOR: Interior fit and finish reflects the best of Britain with finely fitted teak cabinetry and teak and holly soles. All lighting is newly installed LED, opening ports are stainless, lenses in all ports and hatches appear new, handholds are appropriately located, soft goods appear new.
HEADROOM: SEVEN foot head room in many areas of the yacht with some areas at 7 foot 3 inches
HEAD LINERS are solid with a leather like covering. Very elegant.
HANDHOLDS: Properly placed, there are numerous areas to grab during offshore deep water passages.
SOLE: The cabin sole is made from solid teak. You may sand for years and never get thru.
GALLEY
This superlative galley has it all and in a snug U-Shaped space
There is a Tasco 3 burner propane stove with oven. Large refrigerator with freezer and Sea Frost system, note photos, front loading. Breville Toaster oven. Delightful Stainless steel sink and spigot. Nicely crafted numerous drawers and lockers.
DECK
Teak Deck over Airex core sandwich with impressive bulwark and oversized fittings everywhere. Deck is glassed and bolted to the hull, via a reverse hull flange.
Rubbing Strake with Stainless Steel striker allows the yacht access to fixed docks and pilings.
DORADES: There are six large Dorades providing excellent ventilation.
GRAB RAILS: Plentiful grab rails situated right where you need them.
Ground Tackel: 1" 3 strand nylon Anchor snubber bridle new 2023 with ½" Wichard chain hook.
HULL
White hull hand laid GRP with Airex core, GRP Sandwich with structural transverse and athwartships stringers and floors. Monstrously strong. Integral tanks reportedly bonded to hull essentially create double hull and exponentially increased strength of hull composite. Plywood used as structural reinforcement in hi load areas.
Keel is molded GRP fin encapsulated lead ballast of 22500 weight, 10205 kg. Large fin keel with protected rudder.
Built to Lloyds approved design.
ELECTRONICS
New Garmin Radar and plotter, GPS, 2022
NEW B&G DEPTH, WSI AWI, Computer, Autopilot 2022
NEW VHF RADIO 2022
MECHANICAL
ENGINE: Perkins 6 cylinder diesel propulsion engine, 4M-135 model; 135 horsepower at 2800 rpms; ventilation blower; Reduction gear; fresh water cooling for engine and transmission. Water cooled drop feed exhaust with water drop muffler.  Transmission cooler. Shaft is 2 inch, oversized in my opinion, diameter stainless steel prop shaft with Spurs cutter, Aquadrive system with a Thrust bearing, driving a larger than normal 30 inch Max Prop, just rebuilt by Max Prop. The strut is a cast bronze strut with a cutlass bearing, replaced January 2023.
PTO SYSTEM: at the front of the engine is a PTO system to run hydraulics. Having the main engine do this work is quite beneficial to the person operating the bow thruster as the reserve power by the engine gives an enormous amount of torque to the system. The power comes directly from the crankshaft. There are no belts or gear to foul or break. The flexible coupling, Rex Nord E10, is new 2023. 
Charging 50 amp Delco Remy alternator. BIG alternator is a Balmar alternator with 120 amp 24 VDC capacity (94-24-130GG) for house bank batteries.
Racor 900 series Fuel filtration and centrifuge.
Phasor 12 kW Generator
Recent shaft work and prop balancing at Thunderbolt in Savannah.
BOW THRUSTER: Lewmar 250VRTT model 15kW hydraulic retractable bow thruster powered from the PTO.
ELECTRICAL
Endurance has a beautifully designed Electrical system consisting of 120V and 240V AC Systems and 12 volt and 24 volt DC systems. This allows loads to have proper power - voltage - for the designed applications.
GENERATOR: Phasor 12 kW, 120/240 at 60 hz. 400 hours. DC starting with separate battery. Drip pan. This is located beneath the cabin sole forward of companionway steps.
Hubble 50A, 125/250 V AC input. 50' Shore cord, 50 amp.
ISOLATION TRANSFORMER: 13KVA system from shore power to the vessel. This unit isolates the yachts AC systems from any errant voltage provided from dock power and smoothes out voltage, avoiding power surges. Also, the vessel is not connected to the shore power ground, offering many safety advantages.
BATTERIES:   An impressive battery management system and with enormous capacity, ENDURANCE has two banks of batteries, each with four 8-D batteries, thus EIGHT batteries in her house bank. At 250 ah per battery, the house has 2000 amp hours capacity at 12V. Should you have ever been low on battery power and have said the words "Never again", you'll appreciate the incredible extra capacity of this yachts systems.
Two engine starting batteries. 12V in series for 24V. AGM, group 27.
One Generator starting battery. Group 24, 12 VDC AGM Battery.
One 90 ah 12 VDC AGM battery for electronics.
CHARGING: Endurance charges her onboard batteries via a generator and or very large alternator mounted on her main engine. All work performed 2019, 2020.
ALTERNATORS: Two alternators mounted on main engine. One to charge engine starting batteries and a larger capacity alternator for the house bank.
PANELS, WIRE, CIRCUIT BREAKERS: Much of the upgrade works were performed in 2014. 12 VDC, 24 VDC, 120 VAC, 240 VAC.
CHARGERS: Mastervolt chargers and purpose built and designed battery and system monitoring components.
Cabins all have 120 V 15 amp standard US electrical outlets.
REFRIGERATION AND FREEZING
Refrigerator and Freezer compressors replaced in 2022 by Thunderbolt Marine.
RIGGING
Stainless steel discontinuous rod rigging, Stainless steel swaged end fittings, bronze threaded rod and Stainless closed barrel turnbuckles, hydraulic adjustable backstay and rigid vang.  Navtec hydraulic system for backstay and vang. Hydraulic seals replaced on backstay, vang in 2020
RUNNING RIGGING: Low-stretch synthetic line (Dyneema, Spectra and polyester braid) halyards and control lines with S/S wire running backstays – mostly good condition
MAST STEP: Painted aluminum fabrication on structural GRP construction utilizing stringers and frames.
WINCHES: All Lewmar (from aft):  (2) #43ST main traveler, (2) 70ST hydraulic primaries, (2) 55ST manual staysail, #55ST and #48ST hydraulic portside housetop, #48ST starboard side housetop, #52ST portside mast, #43ST starboard side mast, and #30ST fwd on mast for spinnaker pole.  All winch motors reported replaced with new Rondal deck switches in 2012. Much service recently.
DECK HARDWARE: Harken mainsheet traveler, control blocks and mainsheet blocks, Lewmar staysail sheet cars, Rondal headsail turning blocks, jib lead blocks and deck blocks, - all in good serviceable condition.
CHAINPLATES: S/S fabrication thru deck to bulkheads and GRP structural knees in good condition where sited, no signs of leaking. Chainplates reported new in 2012.
AIR CONDITIONING and HEAT, other plumbing
Endurance has Big yacht style Chilled water Systems for both Heat and Air conditioning. Two large chiller and heater systems. Two 24000 BTU chiller units in cabinet aft of engine space. Five individual distribution air handler units in the cabins and other plural spaces.
Large Cruiseair Bronze centrifugal pump PSE1500BX for primary chiller, and Scot centrifugal Chiller circulator pump. March DC circulator pump for hydronic heating system.
HEAT Hurricane heater. via diesel. Hydronic heat. ITR Hurricane II hydronic. 
WASHER DRYER Splendide 2100XC Washer dryer in cabinet near guest cabins.
Why have a chilled water system versus individual AC units in each cabin. First, a Chilled water Type Air handler is more efficient. Remember that a chiller creates cold water by refrigerating the water and circulating it around the boat. In the case of being in a hot area with cooled ocean water, the chiller cools its own water with sea water. For that all you need is a pump and a heat exchanger. Also, maintenance is easier, and less mysterious. Second, Cooling is far smoother, in that the whole boat may be cooled far faster and with less headaches.
STEERING
The skeg hung rudder is a Fibreglass blade with stainless steel framework welded to a large Stainless rudder shaft. The rudder is Foam cored. Upper bearings and bronze heel casting as gudgeon. The wheel is stainless on pedestal with hydraulic ram. Auto pilot  mated to the steering quadrant. Nearly a bullet proof system.
SAILS
Sails: North Sails Roller furling mainsail, Roller furling staysail and Roller furling genoa – all in great condition.
Two additional Spinnakers stored aboard.
RIGGING
Rondal Furlers on both head sails. Recently rebuilt by Florida Rigging and Hydraulics. 2022.
Rod rigging. Norseman end fittings.
Rigging, back stay and vang recently (2023) rebuilt by Zimmerman.
Navtec pump currently being rebuilt by Factory. February 2023.
Winches, roller furlers, and windlass are hydraulic. Additionally, these may also be driven electrically from Lewmar Vickers electric pumps. Note the house bank of batteries consists of EIGHT 8-D batteries. This makes for quiet cruising as neither generator nor engine need to run.
TENDER, DAVITS
Stainless steel Davits
TUG RIB aluminum and hypalon, 10 feet.
Tohatsu 9.9 hp outboard new 2020
STORAGE
Impressive storage in numerous lockers, drawers and plural spaces.
EXTRA GEAR
The extras aboard Endurance are seemingly limitless. In time, a list of extra gear will be available. But should you purchase her, dont buy anything until determining needs.
DISCLAIMER
Neither brokers nor owner offer warranty's of any kind. It is the buyers responsibility to hire competent marine surveyors to assess the fit and fitness of the vessel. All inventory is stated on the listing and any item not listed should be considered excluded from the inventory of the vessel.